September Events
You are invited to Worship with us!
 EVERY SUNDAY
Worship Service at 9:00 a.m.
Coffee Hour immediately following service – Join us for fellowship!
Everyone welcome at our altar for communion. We welcome everyone!
 BIBLE STUDY
After a summer hiatus, Bible Study at Atonement is resuming Wednesday evening, September 13th, 2017 @ 6:30pm.
For the first (1st) session we will examine, reflect, and discuss John 1:1-18, The Word Made Flesh.
We have ordered copies of the study guide for The Gospel of John for seventeen (17) people — AWESOME! There is always room for more folks, so feel free to invite your extended family members, friends, and neighbors to participate in regular Bible study at The Church of the Atonement. We can always order additional study guides as needed. All Welcome!
Some participants have suggested changes in start time, schedule, and meeting frequency. We'll begin in the weekly format that we used during the past school year beginning at 6:30 p.m. for one (1) hour study sessions. After we begin our study, the participants can discuss the different options and then the study group can collectively agree to a schedule that works best for the group as a whole.
++++++++++++++++++++++++++++++
Upcoming Opportunities!
Autumn Tea – Canceled
Dear Parishioners and Friends of Atonement,
Many of y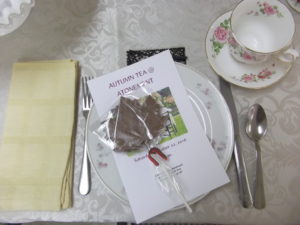 ou have been inquiring about our Parish's popular Annual Autumn Tea and we thank you for your interest and support.
However, due to unforeseen circumstances and the illness of some of our key coordinators, we regret to inform you that we are postponing this event until next year, the Fall of 2018.
We know that this news is disappointing for you as it is for us. We will surely miss seeing you in October!
However, we hope that "absence makes the heart grow fonder" and we'll be eager to visit with you again next year. (Of course, you are always welcome to worship with us each Sunday at 9am and join us for coffee hour immediately following the Service!) So, mark your calendars for Atonement's Autumn Tea 2018 – because, thanks to you, our tickets always sell out fast!
In fellowship, friendship and community,
Your Friends at Atonement
++++++++++++++++++++++++++++++
October Sneak Preview!
FLEA MARKET
The next Flea Market is scheduled for Friday, October 6th and Saturday, October 7th, 2017 from 9:00am to 3:00pm. Please bring your donated items to the church on Saturday, September 30th
through Tuesday, October 3rd, 2017 or by special arrangement. Volunteers are always needed and shoppers are always welcomed!
++++++++++++++++++++++++++++++
Donations Welcome!

Interested in Helping Atonement's Community Outreach?  Donations are always accepted!
We have several annual holiday events and would love your help with the following wish list:
HOLIDAY GIFT BAGS for SENIORS



Personal hygiene items (soap, toothpaste, dental floss, body lotion, hair products, etc.)
Stationery, envelopes and blank cards (greeting, thank you, etc.)
Pens, pencils, note pads
Books of stamps
Flash lights
Socks
Gloves
Hats
Lap blankets
Mugs
Grocery gift cards
Snacks and Candies
Coffee and Teas
Have something else? Call Joyce @ 412-279-1944 – we love new ideas!
You may bring your items to the Church. Please contact Joyce  at atonementcarnegie@gmail.com or call  412-279-1944 to make arrangements or if you wish to make a cash gift. Receipts can be provided.
++++++++++++++++++++++++++++++
Come Volunteer with Us!
Volunteers are welcome! Volunteers are needed! We have something for everyone!
FREE CHRISTMAS DAY DINNER and OPEN HOUSE
This event and full course meal, free, open to all and prepared by professional chefs, requires a special kind of volunteer, a volunteer willing to share their Christmas Day with others. These volunteers possess the true spirit of Christmas in their hearts and understand that giving of oneself is the best gift of all. Each year, we are blessed to be among these kind and generous individuals and a party to their goodwill. 
If you fit this description, we welcome you to come, help and enjoy the day with us! It's a lot of work; we won't lie. We feed over 200 elderly, sick, disabled and isolated individuals each year with home delivered full menu Christmas dinners as well as opening our dining hall to community members, individuals, families and friends – anyone wanting to be a part of our festivities and extended Christmas family.
No one is ever turned away and everyone is welcome! We would love to have you join us for the day: we start early, but most volunteers come at 10am or so and leave before 4pm. We need individuals to help in the following roles:
Set Up and Take Down
Kitchen Help
Servers
Dishwashers
Delivery Drivers
Packers
Greeters
Dining Hall Companions
Please contact Joyce  at atonementcarnegie@gmail.com or call  412-279-1944.
++++++++++++++++++++++++++++++
Remember to give thanks for all of your blessings large and small.
++++++++++++++++++++++++++++++