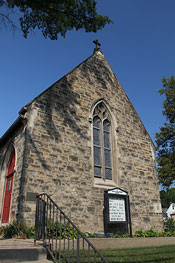 "a-tone-ment":
The reconciliation of God and humankind through the redemptive life, death and resurrection of Christ.
The Church of the Atonement is a parish church with a rich history that parallels the growth of the town of Carnegie.  Founded when Carnegie was still called Mansfield (and was considered a weekend-getaway spot by the citizens of nearby Pittsburgh), the current building resembles an English country parish church and contains a pipe organ donated by Andrew Carnegie himself, as well as beautiful historic stained glass.
Today, Atonement is a small parish church with an active and welcoming congregation, offering a worship service with organ and hymns every week, along with a host of other activities.  Known as the "Parish off the Parkway" we're accessible and close from all directions. All are cordially welcome ~ why not stop by for a visit? We'd love to meet you.
Regular Worship Service
Holy Communion Rite II – Sundays at 9:00 a.m.
Holiday Worship Services
Christmas Eve Service -Monday, December 24th @ 8:00 PM
Christmas Day Service – Tuesday, December 25th @ 9:00 AM
Served by The Rev. Benjamin R. "Ben" Wright
Our name, "At-One-Ment," reminds us that we are at-one with the Lord; at-one with each other; and, at-one with community.
Announcements
Bible Study at 6:30 pm on 2nd, 3rd, 4th and 5th Wednesday evenings each month.
FREE Christmas Day Dinner – Local Delivery to Shut-Ins – We deliver hot dinners to the door with a holiday check-in and cheer for the elderly, shut-ins, Veterans, the ill or disabled. Call Megan at 

412-531-1978

 to schedule a dinner delivery. Delivered dinners arrive between 11:30 am and 12:30 pm on Christmas Day. Last date to order dinner for delivery is December 20th. For others, our dining hall opens from 1 pm to 3 pm on Christmas Day. Walk-ins and reservations welcome. Call Megan at 

412-531-1978

 for seating.
Update!! We have reached our goal for Volunteers this holiday. A heartfelt THANK YOU to all who have Volunteered to serve their neighbors on Christmas Day! You are the true spirit of the season and Church of the Atonement appreciates your support. If you wanted to volunteer but were unable to make it this time, we sincerely hope that you will keep us in mind for next year.Until then, don't stay away! Come to our dining room from 1:00 pm to 3:00 pm – we'd love to share Christmas Day Dinner with you!Best wishes for a blessed and happy Christmas!
Artists at Atonement Open Mic – Sunday, January 6, 2019 6:30 pm – 9:30 pm – NEW START TIME FOR 2019!
Indoor Winter Book and Jewelry Sale – January 18th & 19th, 2019 9:00 am – 2:00 pm. Snow Date: January 20th.