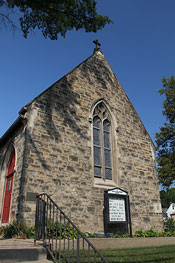 "a-tone-ment":
The reconciliation of God and humankind through the redemptive life, death and resurrection of Christ.
The Church of the Atonement is a parish church with a rich history that parallels the growth of the town of Carnegie.  Founded when Carnegie was still called Mansfield (and was considered a weekend-getaway spot by the citizens of nearby Pittsburgh), the current building resembles an English country parish church and contains a pipe organ donated by Andrew Carnegie himself, as well as beautiful historic stained glass.
Today, Atonement is a small parish church with an active and welcoming congregation, offering a worship service with organ and hymns every week, along with a host of other activities.  Known as the "Parish off the Parkway" we're accessible and close from all directions. All are cordially welcome ~ why not stop by for a visit? We'd love to meet you.
Regular Worship Service
Holy Communion Rite II – Sundays at 9:00 a.m.
Served by The Rev. Benjamin R. "Ben" Wright
Our name, "At-One-Ment," reminds us that we are at-one with the Lord; at-one with each other; and, at-one with community.
Announcements
Bible Study at 6:30 pm on 2nd, 3rd, 4th and 5th Wednesday evenings each month. See you May 15th!

Beer & Hymns Event @ Bakn in Carnegie

– Tuesday, May 14, 2019, 7:00 pm – 9:00 pm – CANCELLED

due to a gas leak at venue. We apologize for the inconvenience.

Perennial Plant Sale – May 18th, 2019 10:00 a.m. – 2:00 p.m.
Artists at Atonement Open Mic – Sunday, June 2nd, 2019 6:30 pm – 9:30 pm – NEW START TIME FOR 2019!

Public Healing Service

, Wednesday, June 5th, 6:30 pm.