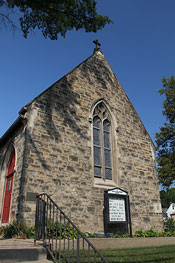 "a-tone-ment":
The reconciliation of God and humankind through the redemptive life, death and resurrection of Christ.
The Church of the Atonement is a parish church with a rich history that parallels the growth of the town of Carnegie.  Founded when Carnegie was still called Mansfield (and was considered a weekend-getaway spot by the citizens of nearby Pittsburgh), the current building resembles an English country parish church and contains a pipe organ donated by Andrew Carnegie himself, as well as beautiful historic stained glass.
Today, Atonement is a small parish church with an active and welcoming congregation, offering a worship service with organ and hymns every week, along with a host of other activities.  Known as the "Parish off the Parkway" we're accessible and close from all directions. All are cordially welcome ~ why not stop by for a visit? We'd love to meet you.
Regular Worship Service
Holy Communion Rite II – Sundays at 9:00 a.m.
Holiday Worship Services
Ash Wednesday, March 7th, 2019 @ 7:00 PM
Easter, April 21st, 2019 @ 9:00 AM
Served by The Rev. Benjamin R. "Ben" Wright
Our name, "At-One-Ment," reminds us that we are at-one with the Lord; at-one with each other; and, at-one with community.
Announcements
Bible Study at 6:30 pm on 2nd, 3rd, 4th and 5th Wednesday evenings each month. No Bible Study on Ash Wednesday, March 7, 2019.
Ash Wednesday, March 7, 2019 at 7 p.m. We will offer Ash Wednesday Liturgy with the option for the imposition of Ashes, celebrate the Holy Eucharist, and have the availability of healing prayer teams for anyone who desires prayer.
Artists at Atonement Open Mic – Sunday, April 7th, 2019 6:30 pm – 9:30 pm – NEW START TIME FOR 2019!
EASTER! April 21st, 2019. Join us in celebration of the Risen Christ at 9:00 a.m.
Spring Flea Market – April 26th, 2019 9:00 am – 2:00 pm; April 27th, 2019 9:00 a.m. – Noon; CLOSED Noon – 1:00 p.m.; REOPENS 1:00 p.m. – 2:00 p.m. for BAG SALE.
 Perennial Plant Sale – May 18th, 2019 10:00 a.m. – 2:00 p.m.